Although it may be a little late to still be making decisions regarding your Summer Vacation destination if you still have time, and…if you have kids, then we've got the spot for you, Lido Di Jesolo, Italy.
Why we like it is because if you do have a family it provides that great combination of a location that will keep the kids entertained but provide you and your significant other some time to yourself and allow you cross off something that may have been on your life-list. Hence the name, Lido Di Jesolo is a 10-mile strand of yellow beach that despite having a history going back to it's former Roman occupants, it only recently had grown into such a tourist destination, now receiving 400k per year. For the kids, the beaches are friendly, long and shallow, with no rip tides. There are also swings and pools at most of the hotels in case they need a little diversity that should keep them entertained all day and leave them just enough energy to eat dinner before falling into a deep sleep, meanwhile for you there is excellent shopping and outside bars where several have their kids passed out while they enjoy a warm summer evening.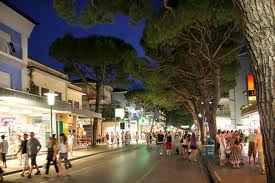 As a nice surprise you're only about 20 minutes away from Venice by car, 30 by bus, and 45 by boat. There is a service bus www.atvo.it from Piazza Drago (Jesolo Bus Station) and Punta Sabbioni (Boat Terminal). You can also get to Punta Sabbioni and take the boat over there In 40min you'll go straight to Piazza San Marco, which has gorgeous, picturesque landscape. Either of those destinations you can do in a day and still get back to the hotel for dinner, or take a couple of days out of your total trip for a nice interlude. In either case it makes for a great European getaway that leaves you feeling like there was something for the entire family.