When the UFC started out it was seen as a version of boxing gone rogue. Then it began to gain a 'cult' type following, then exponential growth that spawned several knockoffs including toughman tournaments where the contestants are literally right off the street to high caliber Mixed Martial Arts where the skill level among the various disciplines is among the best in the world. However since peaking, the UFC has seen a steady decline in the amount of pay per views since mid 2014 compounded by the exit of marquis names like Anderson Silva and needed a personality to take center stage and maybe become the new "face" of the sport. They never would have expected it would be a woman.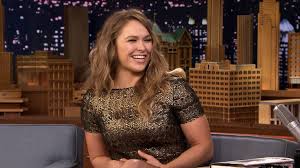 Ronda Rousey has quickly become the torchbearer for the UFC and that has garnered mixed emotion on both social media and viewership. No doubt, if there was ever a more masculine sport than UFC I've never seen it. The punishment these athletes take is far more than football or hockey so the fact that their most popular performer may be a woman hasn't sat well many but there are no retorts to the fact that Rousey has become one of their biggest draws and done something that no other UFC fighther has been able to do, remain an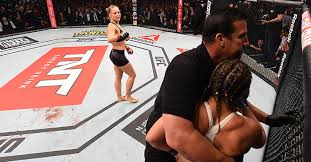 undefeated champion. Not only that but she has ushered in a reign of dominance unseen in the UFC winning her last three championship fights in less than a minute and 4 seconds COMBINED! The amazing run by the 2008 Olympic bronze medalist in judo has captured the attention of mainstream sports fans across the globe. In addition to selling out the arena in Brazil for her last championship bout UFC President Dana White said he expected strong pay-per-view sales and Nielsen reported Twitter traffic for the Rousey-Correia bout was nearly quadruple that of the next most popular events, Major League Baseball games. Rousey record of 11-0 record (10 by stoppage) has a lot of fans comparing her to a young Mike Tyson purely from the standpoint of how dominating they both were at this point in their respective careers.
Unfortunately for Rousey her fame has become a double-edged sword with the other side be very sharp. In addition to her success in the octagon her demand has been just as high off it, appearing in four feature films including The Expendables 3, Furious 7, Entourage, and Mile 22 which just went into production.
In the midst of all of this success you have other UFC fighters that are trying to climb the mountain, get some notoriety, and get a decent payday, because let's face it, when you're trying to reach that summit there aren't many on the way up and many are blaming Rousey for being a side show that when she leaves to pursue those other opportunities there won't be much left for those still supporting the UFC. Then of course you have the casual fan who has nothing better to do than to speculate on why she's not seeing anyone publicly thus leading to the all too commonplace 'lesbian' rumors which Rousey refutes almost daily. Lastly, you've got simple jealousy by many who compare her to Danica Patrick in NASCAR in the sense that she's producing an inferior product that only gets notoriety due to her gender, and they should get the same money. It's a tale that's been heard before and we can only hope that the pressures of carrying the sport don't drive her away from the sport before she has an opportunity to reach her full potential. For all the reasons we mentioned and a few more we don't have space for, we think Ronda Rousey, despite her staking her claim in a male dominated sport, is vastly underrated.