With Fall less than a month away it's time to get the last runs in with your white linen summer dress before you send it to the dry cleaner then to sit with the moth balls for six months until it's en vogue again. That said, it's time start looking ahead to what's going to be moving the needle when the leaves start changing color and one of the things that will be are in a word…"stripes".
On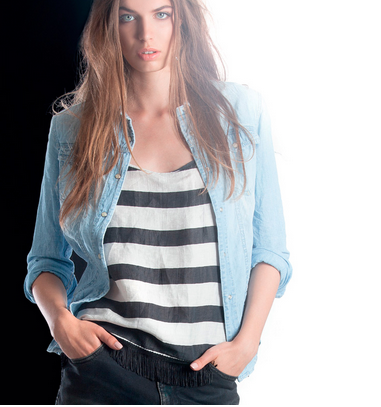 e of the hottest Spring/Summer 2015 trends are stripes. No matter if vertical or horizontal, monochromatic or colorful, from head to toe or on separates, the striped pattern is an evergreen that changes through the years but will never fall out of fashion. Cycle Jeans took inspiration from the marinière style and re-imagined this timeless motif both for woman and man S/S '15 collection. Utilizingvarious combinations of black, grey, navy, white and red, Cycle Jeans put stripes everywhere, from the easy shirt, to trousers, jacket and dresses: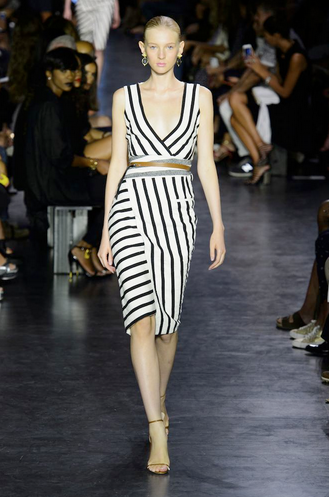 When it comes to patterns, designers are taking a linear approach this season. From mod zigzags to bold sailor motifs, stripes are dominating the runways. For spring, there's only one rule of thumb — more is more. So, mix, match and pile it on with gusto. Clashing colors? Who cares! Outrageous print medleys? Why not! It's only a matter of time until the front row lines up for this one. Go ahead, and pick your poison.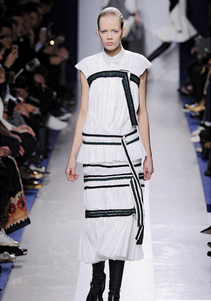 Don't just stop there, take it one step further and finish the job on the bottom with the them hem line and the flounce hem is the happiest. Seriously, try to tell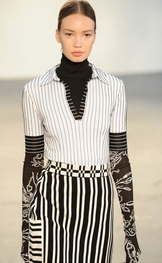 me this skirt isn't smiling. Both flirty and fun, the flounce hem works well for the office, as seen at Louis Vuitton, or for evening, like at Mary Katrantzou. This is exactly the kind of versatile piece every woman needs in her wardrobe. I mean, why wear just a pencil skirt when you can have a personality skirt? An although the occasions may be scarce how about spicing things up with a touch of Audrey in "Breakfast at Tiffany's"?
If there is one consistency among the collections of the designers we've seen at the shows thus far, that is don't be afraid to veer from the norm where the stripes don't necessarily have to be matched with a solid, and the lengths can get longer even with a bold pattern. Much like the fit the color restrictions have relaxed as well. Yes, the traditional fall colors are there but certainly shaded, like the green is now an Army green, the Orange that was so popular for both men and women last year is now more of a Burnt Orange, and of course the Browns are always a staple of Fall. Take some of the old with the new but as the lines have becomes so blurred it will be much easier to find a style that works for you, here are some of the best we've seen to get you started.