Doesn't it seem like the Summer went by so fast? Feels like only yesterday when it was time to display the previous months of work on display by flashing the new swimsuit and now it's time to pack it away in a couple of weeks. Well, it Fall is taking your Summer away kicking and screaming then its time for one last turn on the grill before you pack that away as well. But let's go out in style, for your last outing of the season with family or friends by grilling up a little fish rather than the red meat you've been searing for the last three months. Here is a recipe that will satisfy both the meat eaters in the group and still have enough flair and flavor for even the most finicky of guest.
Grilled ahai steaks makes a great alternative and even gives the similar feel to regular beef steaks. Here is a way to prepare and grill the tuna which I found awhile back, but can not take credit for.  It's simple yet flavorful, and can complement an array of other things if you need to build out the meal. As always we have a pairing to go along with it that will complete the meal and leave all of your guest feeling satisfied.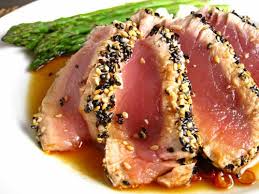 Take the steak and some olive oil and put it in a resealable bag. Put it in the refrigerator for an  hour.  Heat the grill to medium heat and when the coals get hot put some hickory chips on the coal.  Grill for 6 mins on each side putting a little salt and pepper on the fish.  After cooking take off the grill squeeze some lemon or lime on it  and serve. You can pair it with a Pinot Noir or other light body red wine, and we think we have the quality paring for you. This is just a simple healthy choice to close out the Summer, and there are many other options such as Salmon, Shark, and Trout, that would also do the job most admirably. Moreover the best thing about these choices is that your taste buds will like it and your heart will love it.
The Perfect Pair?  –
"
Normally when someone says tuna, it's easy to think of oily shredded tuna in a can. But with me when someone says tuna, I immediately picture a thick piece of ruby red ahi" says Michael Cervin, Wine Judge, Restaurant Critic, and IntoWine Featured Writer, Ahi tuna is a meaty fish, but its flavor is delicate and it needs minimal preparation. A dash of balsamic for a tartness, a touch of rum for sweetness, fresh ground pepper

and cooked briefly. So what wine can handle these requirements? The 2006 Windward Vineyard Monopole Pinot Noir ($36) is a true Burgundian style pinot made here in the states. The bright acidity, the cranberry, pomegranate and deep brown spice notes allow tuna to excel. Fish should be uncomplicated. A slightly complicated wine, like Windward's estate pinot noir from Paso Robles (yes, you read that right) will gratify your meal and make you a sucker for a reductionist pinot noir from California.
Let us know what you think, and enjoy the final days of the season.