If you look around there's no doubt another holiday season is upon us, amazing how the year goes by so fast. Thanksgiving, Black Friday, Cyber Monday, fires, Irish Coffee, and a cold front that changed once green trees to sere and delayed many holiday travelers with snow covered highways. It certainly has become too cold to go bare the legs but that doesn't mean you can't go kicking and fighting. Perhaps you can delay the inevitable with a boot that hits your knee or higher and although you may need a jacket on the way there, that doesn't mean you have to wear goulashes once you take it off. Here are some of the trending looks for those of you that won't the season's change your sense of style even thought they do.
Now there is a difference between necessity and making a fashion statement, obviously if you're in the snow then you're not going to take out your best leather unless you're going right from the Uber into your destination and even then they suffer some damage so you may want to let mother nature dictate your choice of materials and if that's the case then some more fashionable patent leather or rubber my accomplish both task. Waterproof or not? It depends on the typical weather conditions in your location. If you live in an area where winter season includes heavy rain and snow, waterproof snow boots are definitely an investment. But if you only experience mild winter with dry snow, waterproof winter might not be necessary. In fact, it's even advisable to have a pair that's not waterproof because it provides better air circulation, letting your feet breathe much better. Before going to the next snow boots sales, determine how often you will be out in wet, snowy weather, and then decide whether to get boots that have waterproof outer fabric, or ones that feature a moisture-resistant inside lining. Of course, if you want the soles of the boots to be 100% waterproof, rubber is definitely a smart choice.
Activity level goes hand in hand with the warmth of the winter boots, which means that you don't necessarily have to buy the warmest winter boots winter boots on sale. If you live in a cold environment and does mostly static work outside, a warm pair of well-insulated snow boots is recommendable. But if you have an active lifestyle and do a lot of dynamic work outdoors, you should opt for a pair that's not as warm to avoid sweaty feet. You also don't need to buy heavy duty winter boots if you don't actually need them. Always take into consideration how often and in what type of weather conditions they are going to be used.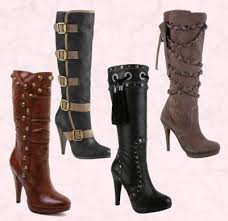 Length is another crucial factor to consider when buying winter boots. For guaranteed warmth, knee-high or thigh-high boots are a clever choice, and they work well if you've got inches of snow on the ground. They are also very stylish and suitable to wear with jeans or knee-length dresses. Most commonly chosen, mid-calf winter boots are ideal and practical for daily use, and they provide a feeling of less-restrained movement. Now, if you want something that has a casual sneakers feel, go for ankle-length winter boots. However, they are not appropriate for heavy snow.