It's always been a fine line between trying to look your best and trying to be someone you're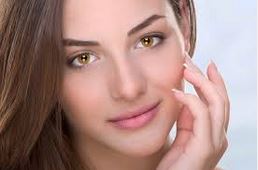 not. Like so many things over time that imaginary line has moved to the left quite a bit and things that used to be on one side of that line have moved to the other. Celebrities and social media have had a lot to do with moving the needle. Hair extensions and Brazilian Blowouts are now commonplace rather than your little secret. In fact now, the hard truth is not only can many recognize the work but appreciate how much the procedures cost, and sadly speak, it's a bit of a status symbol that you can afford to get them done. In fact, we've already covered eyelash extensions in a previous post. Not only have the procedures become ubiquitous but completed much faster than before making them more common. Like many of the procedures we covered colored contact lenses have made a huge comeback and now there's no shame in shaking things up ahead of your night out or dating site setup. There have been many upgrades over the years and however you will still need to make a trip to the eye doctor before you get them even though you can pick them up online, even at stores as large as Walmart so you may be surprised who has a secret behind their sun shades.
I think most of us would like to know what we look like with a different shade of peepers every once in a while, and now you can pick them up at your local drug store rather than the arduous process of making an appointment with your Ophthalmologist and going through the prescription process. Before we share some of the cool styles we should cover some of the basics.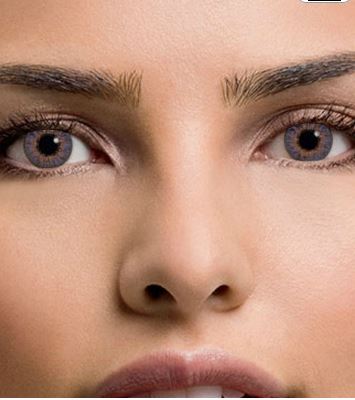 Colored contact lenses allow you to change your eye color and create a look that's subtle, bold or anywhere in between — whether you want to enhance your everyday look or rock a crazy design for Halloween and other special occasions.
Color contacts are available in both prescription and plano forms:
Prescription color contacts correct your myopia (nearsightedness), hyperopia (farsightedness) or astigmatism, as well as enhancing or completely changing your eye color.
Plano color contacts are worn purely for cosmetic purposes to change your eye color and have no lens power for vision correction.
The cost of colored contacts can be significantly more than for regular contacts; but for many wearers, the ability to change their eye color is well worth it.
Some people prefer a dramatic transformation, while others are happier with a more subtle eye color change. Which type of person are you? (For a close-up slide show, please click on the image.)
Types of Color Contacts
Most colored contact lenses are designed to mimic the natural look of the colored part of the eye, called the iris.
Since this area is made up of colorful shapes and lines, some color contacts feature a series of tiny colored dots and radially arranged colored lines and shapes to help the lenses look more natural on the eye.
The center of the lens, the part that lies over your pupil, is clear so you can see.
Color contacts come in three kinds of tints:
Visibility tint. This usually is a light blue or green tint added to a lens, just to help you see it better during insertion and removal, or if you drop it. Visibility tints are relatively faint and do not affect your eye color.
Enhancement tint. This is a solid but translucent (see-through) tint that is a little darker than a visibility tint. As the name implies, an enhancement tint is meant to enhance the natural color of your eyes. Colored contacts with this type of tint usually are best for people who have light-colored eyes and want to make their eye color more intense.
Opaque tint. This is a non-transparent tint that can change your eye color completely. If you have dark eyes, you'll need this type of color contact lens to change your eye color.Color contacts with opaque tints come in a wide variety of colors, including hazel, green, blue, violet, amethyst, brown and gray.Costume or theatrical contact lenses also fall into the category of opaque color tints. Long used in the movies (examples are The Man Who Fell to Earth, Avatar and the Twilight series), these special-effect contact lenses are now widely available for novelty use.You can temporarily transform yourself into an alien, gothic or vampire, to name a few. You can even wear the same type of contacts used in Twilight.
Here are some of our favorites in no particular order staring with Air Optix Colors. They're website is simple to use yet quite extensive and provides some of the best visual aids as examples. You can also get them at Walmart or at multiple online suppliers.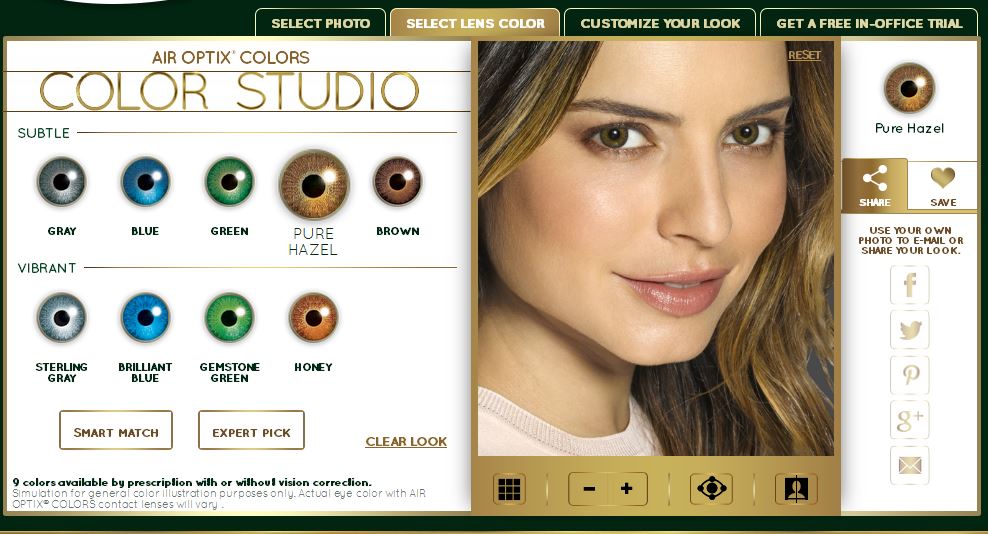 In the past what had dramatically limited the the market for both the consumers and manufacturers was the challenge of making a colored contact that looked somewhat natural when used by those with a natural dark eye color. Kind of ironic when you would have to think that those with darker eyes would be the majority of the market. Well now one of the greatest attractions of colored contacts is the fact that they give you the opportunity to finally have the eye color you've always dreamed of. Remember, though, that not all shades of contact lenses go well with the natural color of your eyes and just because a pair of contacts is colored violet, doesn't automatically mean it'll give you Liz Taylor eyes. If your natural eye color is brown, the following brief guide should point you on the right track towards choosing the right type and color of lenses. Among those who specialize in lenses for those with dark eyes, we like Freshlook.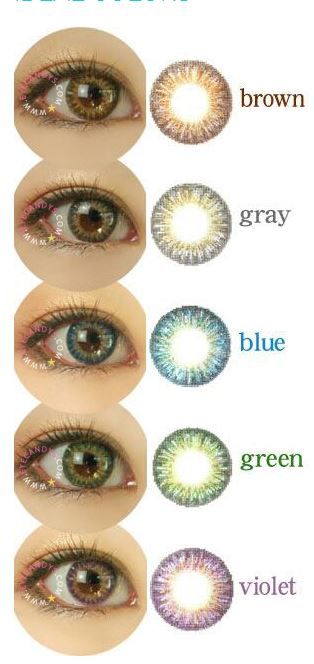 Now that we've given you some ideas on how to broaden your horEYEzons, before you choose colored contacts, be mindful of these key factors:
Color Contacts: What You Need to Know
Although there are different-sized lenses to fit most wearers, there will be some occasions (such as during blinking) where the colored portion may slide somewhat over the pupil. This creates a less-than-natural appearance, particularly when wearing opaque color contacts.
Also, the size of your pupil is constantly changing to accommodate varying light conditions — so sometimes, like at night, your pupil may be larger than the clear center of the lens. In these instances, your vision may be affected slightly.
Are Color Contact Lenses Safe?
Yes, colored contact lenses are safe — as long as your contacts are properly prescribed, used and cared for.
It's essential that you visit your eye care professional for a proper contact lens fitting. This will ensure your colored contacts are safe and comfortable and look natural on your eye.
Just like regular contact lenses, color contacts are not bad for your eyes if you follow your eye care practitioner's instructions, particularly regarding how long you can wear your contacts and when you should replace your contacts.
If you wear colored contacts only on special occasions, daily disposables are a great option.
Do You Need a Prescription for Color Contact Lenses?
Yes, you need a contact lens prescription to purchase colored contacts legally in the United States. This is true even for plano color lenses that don't have prescriptive power and are worn for cosmetic purposes only.
Watch this video on colored and special-effect contact lenses used in the movies.
In the U.S., all contact lenses are classified as medical devices by the FDA. All contact lenses, worn for any purpose, require a valid contact lens prescription written by a qualified eye care professional and cannot be sold to consumers without one.
If you see color contact lenses being sold in a flea market, it's likely that the vendors are breaking the law.
Other illegal sales of cosmetic contact lenses have been discovered in gas stations, beauty salons and novelty shops.
Always ensure you're buying contact lenses from a legitimate source; the health and safety of your eyes is not something to play around with!
Color Contacts Do's and Don'ts
DON'T share your contact lenses. As fun as it may sound, never swap colors with your friends. Contact lenses are medical devices and are fitted to the specifications of each individual's eyes. Exchanging lenses also can transmit harmful bacteria, which can lead to a serious, vision-threatening eye infection.
DO care for your contact lenses properly. Color contacts, like clear contact lenses, must be properly cleaned, disinfected and stored with appropriate lens care products to avoid contamination. And don't forget to replace your lenses according to your eye care professional's instructions.
DON'T wear your contacts if you develop sore, irritated or red eyes. This may be a symptom of a contact lens-related eye infection or other serious problem. Contact your eye doctor immediately if you experience discomfort during or after contact lens wear.
DO have fun with your new look! Whether you want to enhance your facial features or create a dramatic statement, colored contacts allow you to have the eye color you've always wanted.
Color contact lenses continue to grow in popularity, and there is an ever-widening variety of colors and effects to choose from. With the help of your eye care practitioner, you can find a colored contact that's comfortable to wear and best suits your personality and desired appearance.