Needless to say, perhaps the most important person on the planet other than your spouse is someone you don't want to 'drop the ball on', so you time should be invested on choosing a florist that you know will deliver on time. Search here for a few suggestions that will not let you down. For most of us it is more about the thought so you really can't con wrong on what you choose but a nice impression can be made by sending Mom a bouquet of her favorite color roses, if you know what it is, and that would be making a caring statement in itself if you do. Mother's Day Roses are an ideal way to show how much appreciation we have for everything that our mothers do.
Weddings
Obviously your own wedding is a momentous occasion that requires elaborate coordination and attention to detail, and flowers are one the most important component of the planning process. With that in mind you want to give careful thought to your wedding flowers, bouquets and floral centerpieces. It is important to remember there are no correct or incorrect floral arrangements for your wedding so select flowers that depict your personality and which adhere to your preference and budget. Although many want to go into the event with the mindset "money can't be an issue as this is a once in a lifetime event" but you will be shocked how quickly things can spiral out of control if you're not careful and choosing flowers that are in season will help keep the cost down. Floral arrangements should always consider the bride's bouquet, floral décor for other members of the wedding party (ie; flower girl(s), bridesmaids, the groomsmen's corsage, and flowers used around the wedding venue such as centerpieces. Typically flowers are chosen according to the color scheme and/or theme of the wedding.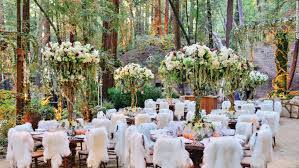 A friends wedding – To be honest this may not be a good idea unless you are unable to attend. Even in that case I might send flowers to the couple a week or so before the wedding, so that they can enjoy them in the time leading up to the wedding, or after they get back from the honeymoon, so that they have something fresh and pretty to decorate their new home. Flowers arriving the day of the wedding, particularly at the event may firstly get lost in the shuffle and never get to the recipients. I mean think about it, do you think they really want to deal with that among everything else going on?
Birthdays
In addition to being a great way to send happy birthday wishes, a bouquet of roses can make a beautiful centerpiece for a birthday party. Sending flowers is a lovely way to show a friend you care about her birthday, but make sure it doesn't backfire. If you are sending flowers to someone you consider a friend you should take some time to know what they prefer. Before deciding on what kind of flowers to give your friend for her/his birthday, take some time to think which variety to send. If they love to garden, a potted plant is the perfect choice, but if they don't have a green thumb, go with artificial or cut flowers. Personalize the flowers and their container as much as you can to show your friend that they are in your thoughts.
Thank You
Roses are a time-honored symbol for appreciation, and any rose can be used to say thank you. However, according to traditional rose meanings, a message of gratitude is specifically conveyed by dark pink colored roses.
Get Well
To say get well, or to brighten someone's day, cheerful and vibrant colors are usually selected. A colorful bouquet of roses can be just the thing to lift someone's spirits and let them know that they are being thought of.
Sympathy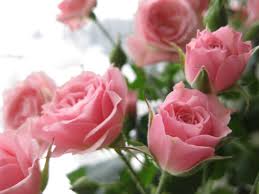 For expressing sympathy, soft muted colors are the most appropriate. Soft pink roses are the traditional color of choice to convey a message of sympathy. White roses are often used to represent honor and reverence. Roses have been used for centuries as a way to express our deepest emotions, as more and more new types of roses have been introduced, more complex meanings have been attributed to them but you don't have to overthink this issue.
Business Associate
Do not send a business associate anything too delicate or too fragrant: You might as well wink and include a date, time, and motel-room key. Calla lilies are safely clean and dynamic, one of nature's most elegantly efficient products—worthy of Mapplethorpe's lens, worthy of your VP's desk. Bright colors are even further from a suggestion of romance. Try red Gerber daisies (deli ones can work, as long as you get enough of them), which imply smiley faces, or anything violet. Yellow is a good office choice, suggesting cheerful industriousness.
First Date(s)
Early courtship should seem innocent even if it is not, so choose the palest tuberoses for the first stage of the game. Falling in love, though, surrenders humility and requires a bouquet that is dangerous, exotic, and soulful. The papery blood-red petals, the ebony pistils, and the wily stalk: Chinese poppies are what you send when you are head over heels. An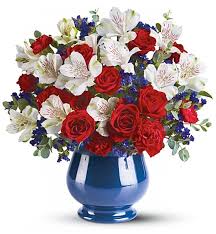 anniversary should be celebrated by a window box of herbs: mint, rosemary, lavender. They will provide for you in daily life, you will nurture them, and they will last. A white rose symbolizes innocence and purity, but may be too much for the courting stage. When mixed with red roses it represents "unity" so that may be a nice touch once there are commitments exchanged.
Thank You Flowers
Thank-you flowers should be personal, well considered, and tied to the greater order of things. A family friend harvested quinces from our tree one autumn, and returned the next to a dinner party bearing a decanter of quince liqueur. In gratitude to a winter host, send a bouquet of pepperberries, holly, and narcissus; a summer host could receive white peonies and wild-strawberry leaves. When I graduated from college, my literature professor potted a cutting from his night-blooming cereus for me, and I took it into the world.
A Guide to Color coding roses –

Red Rose
This one is the most obvious. It means "I love you." It represents romance and love.
Deep Pink
This simply means "thank you". If someone you know does something nice for you, a deep pink rose is a good way of saying "thank you".
Regular Pink
A pink rose represents happiness. It's great to give a pink rose to a partner to say, "I'm very happy with our relationship."
Light Pink
A light pink rose means "sympathy". When someone has had a loss then light pink roses is a very nice way of expressing your condolences.
White Rose
A white rose symbolizes innocence and purity. When combined with red roses (see further down), it represents "unity".
Yellow Rose
A yellow rose symbolizes friendship and caring. It's the perfect innocent gift to give to a friend or give to a loved one when you simply want to say "I care". When given to a friend it also means "I'm happy with our friendship."
Lavender Rose
A lavender rose is a symbol of "falling in love". When you give it to a person you are saying "I have fallen in love with you and am enchanted by you."
Orange Rose
An orange rose is a symbol of desire. "I desire you" or "I desire to get to know you better" is the message that orange roses send.
Black Rose
Never ever give a woman a black rose, because Hollywood has, unfortunately, made out the meaning to be "death". These aren't easy to find and some maintain that they don't actually "exist".
Blue Rose
A blue rose is very hard to reproduce or find, although some floral companies are trying to do it naturally. Others just dye them. To some a blue rose symbolizes "mystery" and to others "attaining the impossible". A blue rose given can symbolize the rarity of your partner. You have attained the impossible.
Mixture of White and Red Roses
When you deliver white and red roses together to someone, it is a symbol of unification and unity. "May we always be together as one."