Despite some of the problems with the heat I'm pleased to say Summer isn't over yet and there are still plenty of warm nights left to schedule evening meals outside. So we've got another installment on how to get the most out of the soirees we have left. Today we won't be looking at a main course but a complement that can do so much more than you think. We're going to change your mind about Pesto sauce with some new ways to spice it up and blow you and your guest away.
Ok, we'll start off with what you know, the ingredients in traditional pesto haven't changed since day one. It's olive oil, basil leaves, Parmigiano Reggiano Stravecchio (if you're doing it right), and sea salt. However, perhaps what you didn't know is that Pesto has it origins in Genoa, in Italy's Liguria region, ever protective, the city's Chamber of Commerce strictly limits the official recipe, so that should be your first clue that mastering this will worth your while. So we will start off with the traditional recipe, then not to be sac religious but we wanted to give you a couple of unique spins on the mainstay to woo your guest with.
Ingredients
2 cups fresh basil leaves.
1/2 cup olive oil.
1/2 cup grated parmesan or romano.
1/2 cup grated grana Padano.
4 garlic cloves, chopped.
A small handful of pine nuts, toasted.
1/4 teaspoon salt.
Chop Ingredients
Start chopping the garlic along with about 1/3 of the basil leaves. Once this is loosely chopped add more basil, chop some more, add the rest of the basil, chop some more. I scrape and chop, gather and chop. At this point the basil and garlic should be a very fine mince. Add about half the pine nuts, chop. Add the rest of the pine nuts, chop. Add half of the Parmesan, chop. Add the rest of the Parmesan, and chop. In the end you want a chop so fine that you can press all the ingredients into a basil "cake" – see the photo up above. Transfer the pesto "cake" to a small bowl (not much bigger than the cake).
Form a Paste
Cover the pesto "cake" with a bit of olive oil. It doesn't take much, just a few tablespoons. At this point, you can set the pesto aside, or place it in the refrigerator until you are ready to use it. Just before serving, give the pesto a quick stir to incorporate some of the oil into the basil. Francesca's mom occasionally thins the pesto with a splash of pasta water for more coverage, but for our gnocchi this wasn't necessary.
Marjoram Pesto – One of the more appealing attributes about Pesto in general is generally doesn't take much time to prepare and the reward is exponentially greater than the time investment. Another version that is very meal enhancing is Marjoram Pesto, it only takes 15 minutes to prepare, but for best results you should probably let it sit overnight.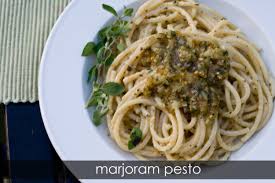 First Group of Ingredients

3 garlic gloves                                                                                                       Second Group of Ingredients
1/4 cup pine nuts                                                                                                 ¼ grated Peconio
1 teaspoon sea salt                                                                                              ¾ cup marjoram leaves
1.5 cups full parsley leaves                                                                                 ¼ cup grated Parmigiano Reggiano Sardo
1/3 cup extra-virgin olive oil
Place these ingredients in a food processor like a vita-mix, bullet, or high quality blender, pulsing until the ingredients are well combined. Then add ¾ cup marjoram leaves and pulse again, be careful not to grind too fine then add ¼ grated Peconio Sardo and ¼ cup grated Parmigiano Reggiano. Pulse to combine then season with more salt to taste. Now  If you're not serving immediately then transfer to airtight container. Also consider pouring a thin layer of olive oil over the top. Cover and refrigerate overnight.