One of the newest and most popular appliances this year has been the air fryer. It has transformed many kitchens across the country for those of us that have given up fired foods in the quest of eliminating cholesterol from our diets. Although the Air Fryer doesn't take all of the potential for unwanted pounds away it certainly helps in the fight to find the balance between foods we like to eat and the health we're trying to keep up.
My friends have told me on many occasions that I am living in the dark ages because I have never used a microwave but after having a father that died of cancer I have been apprehensive for anything that could contribute to the chances of another family ending up in the same place and rest assured I grill my husband every day on his calorie intake, limit his red meat to one day a week, and all but eliminated fried foods from our families diet. However these new air fryers might make it possible to still satisfy the fried food cravings that accompany a football weekend and we got a few of our favorites.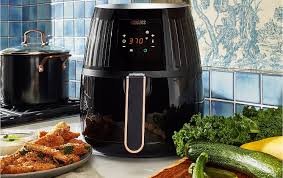 CRUX 2.2-Qt. Air Convection Fryer ($80). Its display is clear, it makes no more noise than a standard microwave and it comes with a quick-release button at the top of the handle so you can open the air fryer with one easy push of your finger. Best of all, once you set the time on the CRUX, it automatically pauses itself no matter how many times you open the basket to check on your food, and it picks up right where it left off once you replace the basket.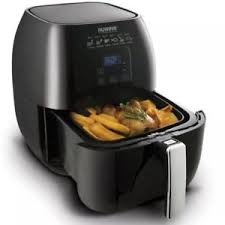 The Nuwave Brio 36001 Air Fryer ($80) 
The front tray that pulls out makes loading and unloading  much easier. However as streamlined as the CRUX is designed it also has a shape that allows you to fit slightly more food in it. In terms of performance, it matches the CRUX—though I prefer the latter's sleeker exterior.
Philips HD9641/96 Airfryer ($250)– There It is the most expensive of the three listed here but rest assured there are plenty of reasons why the Philips HD9641/96 is considered one of the best. Firstly, most users argue that the device is able to cook food evenly, which is pretty important when dealing with fryers. Not only that, but the interface of the Philips HD9641/96 is relatively easy to use thanks largely to its so-called "QuickControl" dial, and features a relatively small footprint compared to many of the other air fryers out there. The vast majority of users love the Philips HD9641/96 too. The device is currently sitting in with an average of 4.4/5 stars on Amazon, which is no small feat.