Just like the song, I think it's the most wonderful time of the year but it can also be the most stressful time of the year if you let it. Each year we try to give you some good ideas on some things you can put on your table to both take the stress off and enhance the spirit of the season. We will get to the cornerstones of Turkey and Stuffing shortly but we start our series with a way to finish the meal that will put the cap on a wonderful evening and have your guest raving on how great everything was top to bottom. We start our series with a recipe for Cranberry Crumble Pie.
No this desert takes a little longer so you may want to start it the night before as there's no doubt your day will be full. The total time is 6 hours with cooling time so get some things done before the chaos starts. The end result will be one nine-inch succulent pie!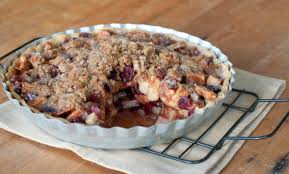 Cranberry Crumble Pie
For the compote
12 ounces cranberries, (make sure you rinse and pick them over)
½ cup packed light brown sugar
2 additional tablespoons light brown sugar
¾ teaspoon grated orange zest
1 tablespoon fresh orange juice
For the Crumble
1 cup rolled oats
½ cup packed light brown sugar
1 cup all-purpose flour
½ teaspoon ground cinnamon
½ teaspoon kosher salt
½ cup plus 2 tablespoons unsalted butter
Filling and assembly:
¾ cup granulated sugar
¾ teaspoon ground cinnamon
1 teaspoon ground nutmeg
½ teaspoon ground allspice
¼ cup tapioca starch
1 ½ teaspoons kosher salt
8 ounces cranberries (once again rinse and pick over)
½ Bosc or Anjou pear, peeled and grated
2 tablespoons cream cheese, softened
1 9-inch all-butter pie shell, blind baked and cooled
1 large egg, beaten
Vanilla Ice Cream for serving
Make compote in a medium heavy-bottomed saucepan over low to medium heat and combine cranberries, brown sugar, orange zest, and orange juice. Cook until cranberries begin to burst then remove from the heat and set aside to cool completely. You can also put them in the freezer for a quicker chill. Remember the compote can be made up to 4 days ahead of time and kept in an airtight container in refrigerator. This may help you get things ready so the actual Thanksgiving Day meal isn't so stressful.
Make crumble in a large bowl, combine oats, brown sugar, flour, cinnamon and salt. Place butter in bowl and coat on all sides with flour mixture. Cut butter into ½ inch cubes. Use your hands to break up cubes and lightly coat with flour mixture then cut the cubes in half.
Use a pastry blender or fort to cut butter into flour mixture while turning bowl. Once most of butter is incorporated, use your fingers to fully break down butter until no longer visible. Do not overwork mixture. Crumble can be completed up to 4 days ahead of time as well and stored in refrigerator.
Now preheat oven to 350 degrees. Line a baking sheet with parchment paper. Make the filling in a large bowl by combining sugar, cinnamon, nutmeg, allspice, tapioca starch and salt. Add cranberries, pear and cooled compote, and mix thoroughly.
Spread cream cheese evenly over the bottom of the pie shell. Brush crimped edge with egg. Layer cranberry mixture on top of cream cheese, it should come up to the bottom of crimps. Then cover the fruit with crumble topping, but leave a small hole in the center where the cranberry filling can be visible. Place assembled pie on prepared baking sheet.
Transfer baking sheet with pie to oven and bake until juices are beginning to bubble in center and crumble topping is a uniform deep golden color, this process takes about an hour to an hour and ten minutes.
Lastly transfer pie to a wire rack to cool to room temperature, about 4-6 hours. You can also prepare this the night before at it will serve well at a dinner at 5pm or later.