For those of you that have been following us for a few years know that we love the holiday season more than most and it starts the day after Halloween and then rolls downhill all the way to New Year's Eve. I put up decorations the first day that I can without being deemed legally insane. So now that we've caught the rest of you up to speed, we begin our series of holiday serving ideas with holiday desserts. They're in no particular order just whenever someone submits something that will make your holiday taste better. This year we start with a holiday dessert recipe that may not replace the apple pie at your Thanksgiving table but will give it a run for its money, or provide a great alternative. We start with a recipe for Apple Pie A La Mode Ice Cream Sandwiches.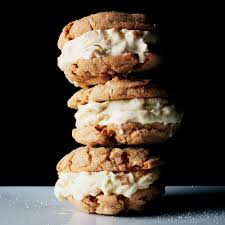 Apple Pie a la Mode Ice Cream Sandwiches
Total time 1 Hour 30 Minutes – makes about 20 sandwiches
For the Cookies
1 ½ Cups all-purpose flower (6 3/8 oz)
¼ Teaspoon baking soda
¼ Teaspoon baking powder
¼ Teaspoon cream of tartar ( you can also use fresh lemon juice or white wine vinegar)
¼ cup vegetable shortening
¼ cup unsalted butter
1 cup granulated sugar
2 Tablespoons granulated sugar (additional)
1 large egg yolk
¼ Teaspoon vanilla bean paste
1 Tablespoon Ground Cinnamon
For the Filling
2 Tablespoons unsalted butter
1 Tablespoon extra-virgin olive oil
1 bay leaf
2 Granny Smith Apples, peeled and finely chopped (makes about 2 ½ cups)
3 Tablespoons light brown sugar
1 Teaspoon fresh lemon juice
½ Teaspoon ground cinnamon
½ Teaspoon ground allspice
¼ Teaspoon ground nutmeg
4 cups vanilla ice cream , softened
Make the cookies – preheat oven to 375 degrees. Line 4 large baking sheets with parchment paper. Whisk together flour, baking soda, baking powder, cream of tartar, and salt in a medium bowl. Combine the shortening, butter, and 1 cup granulated sugar in bowl of a stand mixer or large enough to use a hand mixer. Beat on high speed until light and fluffy, about 2 minutes. Reduce speed to low; beat in egg, egg yolk, and vanilla bean paste until incorporated. Gradually add flour mixture, beating just until dough comes together.
Whisk together cinnamon and remaining 2 tablespoons granulated sugar in a shallow bowl. Shape dough into 42 1-inch balls. Dredge balls in cinnamon mixture, and arrange 3 inches apart on prepared baking sheets. Bake cookies in preheated oven in upper and lower thirds of oven, until light golden around edges, 7-9 minutes. Transfer cookies on baking sheets to wire racks to cool completely, about 15 minutes.
Make the Filling
Melt the butter with olive oil in a large skillet over medium. Add bay leaf and cook for 15 seconds. Now stir in apples, brown sugar, lemon juice, cinnamon, all-spice, nutmeg, cloves, and salt. Cook, stirring occasionally, until apples are very soft and begin to caramelize, about 25 minutes. Scrape apples onto a baking sheet or large plate to cool completely; discard bay leaf.
Working quickly, fold cooled apple mixture into softened ice cream in a large bowl. If the ice cream becomes too soft, you'll need to put it back in the freezer for about 30 minutes or firm enough to scoop. For each sandwich, scoop about 1 ½ Tablespoons ice cream mixture onto flat side of half of the cookies; cover with remaining cookies. Wrap in plastic wrap, and freeze until ice cream mixture is just firm, about 30 minutes. Serve immediately. The sandwiches can be stored for 3 days.