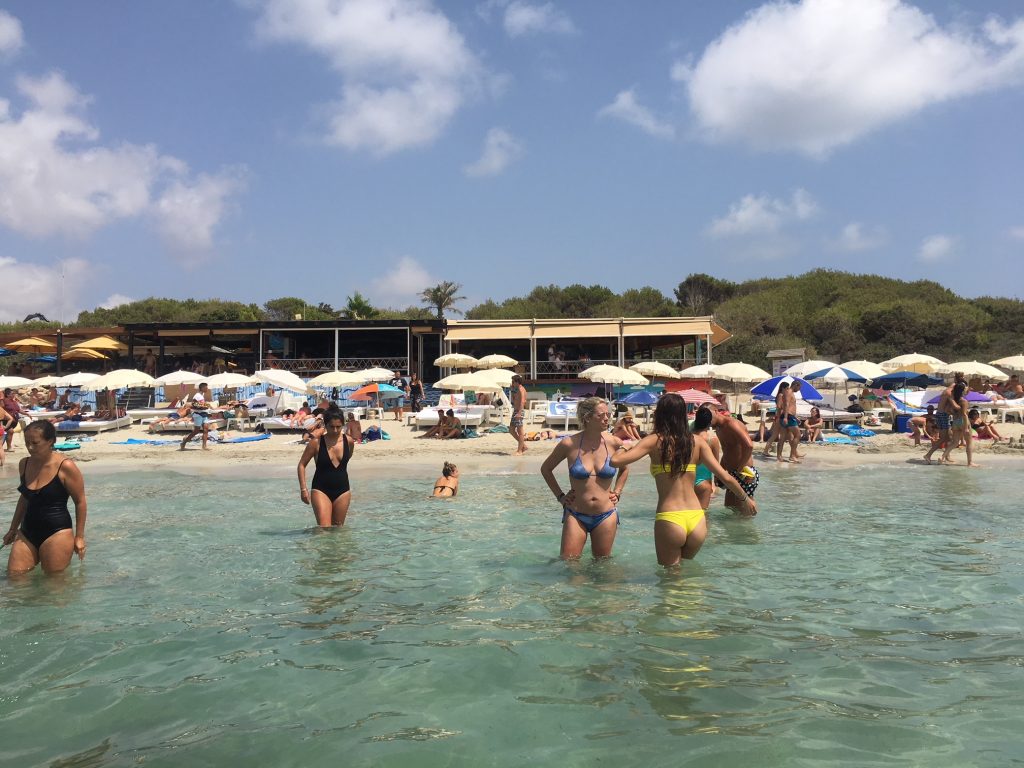 Just over 10 years ago I made my first trip to Ibiza, Spain based solely on the word of mouth 'buzz' from people I had met while vacationing somewhere else, basically telling me "this is where you really so go", so I made a commitment that Ibiza would be my next destination. Needless to say the next year my girlfriend at the time and I made the trip over from the States and I experienced firsthand what everyone had been talking about. In the first 15 minutes I knew I was home. It only go better once we hit Salinas Beach and spent the day at one of the beach clubs where the music was thumping, playing my favorites, at a volume loud enough to hear it from the ocean, so it made perfect sense that people were both dancing and drinking in the turquoise blue water that you could actually see the bottom in. Needless to say it was quite an epiphany coming from California where we don't utilize the endless beach resources to their full potential. It was the only place of the 'beach vacations' where the daytime atmosphere was as good as the night. Yes, that was not a misprint, for all of the legend of Ibiza nightlife, and make no mistake, Pacha, Space, The Buddha Lounge were all phenomenal and who could ever complain about a place where "happy hour" is from midnight to 1am, but there is something about having that same kind of vibe and enthusiasm all throughout a perfectly sunny day surrounded by the pull into most beautiful people in the world, at one of the best parties, where even the yachts have to pull into port and doc to check out what's going on. Needless to say it was the stuff of legend.
Since then my life has progressed as it has for all of us. The addition of a wife, two kids, and other responsibilities have changed the objective and destination of our vacation destinations. However that perfect place always seemed to come up in conversation when planning our vacation for the upcoming year. Unfortunately, it would usually begin with something like "remember when we could be that irresponsible" or "remember how capricious we could be" and end with "we have to act more like adults now" so Ibiza was out as a destination. Moreover we didn't really think it would be an appropriate place to bring the kids, so it always remained tucked away in the areas of fond memories.
Finally, a decade later, when looking at some pictures of vacations past, did we realize that we had lost a step and although we weren't as carved out as we used to be, we could still hang and perhaps like most things in life maybe the rock had matured with us. In the meantime we had traveled back to IOS in Greece to visit a friend and were shocked to see that it hadn't changed one bit. It was still an island devoted to parting and run by teenagers or those in their early 20's. Looking at the club "Sweet Irish Dream" in broad daylight years later, looked run down and dirty and I would have rather kept the previous version I had in my mind rather than see this one. In any case that trip caused another 5 year delay in considering Ibiza as there was no way IOS was a place to bring two children under 10. So here we were and despite that rude awakening we got in IOS, when researching  online all seemed to indicate  that things had changed a little bit more on Ibiza than IOS so realizing we weren't getting any younger, we decided to start our vacation this year on the rock before moving on.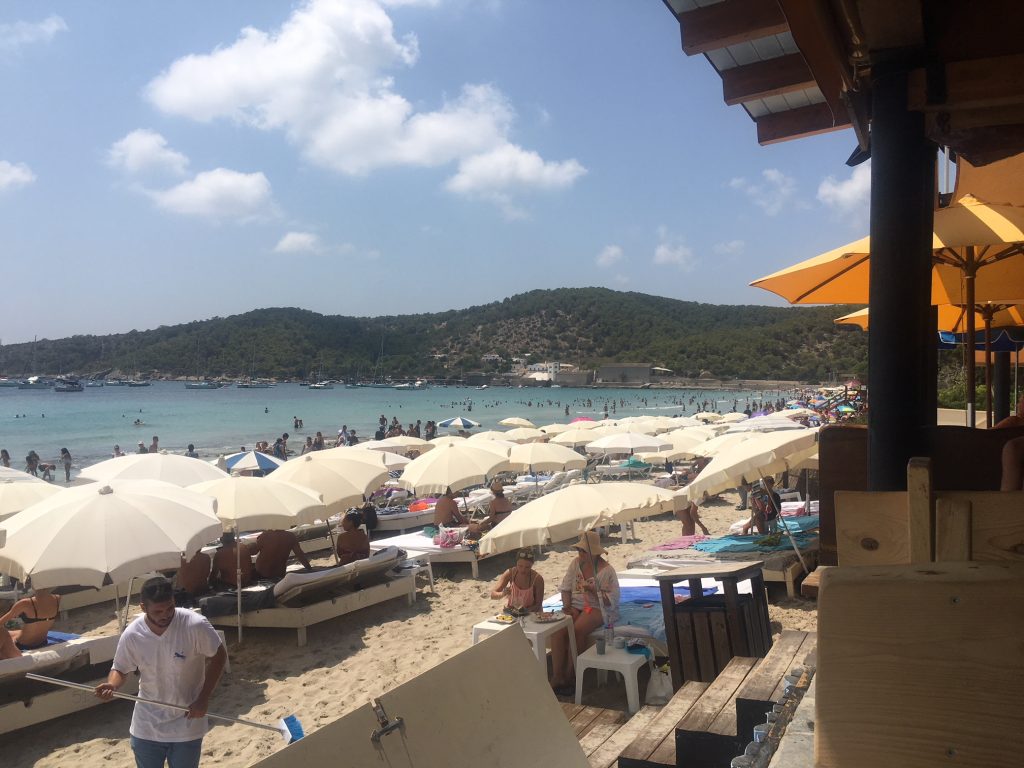 The first thing that was different was the amount of flights that would actually get you to the island in a timely manner rather than needing to take the ferry. We arrived much more refreshed and needless to say the stress of not having to take a boat with the kids was so much better. The second thing we noticed was that it was much more developed than before with a couple of hotels, including a Hard Rock Hotel that would have been unthinkable a decade ago. Last time around we simply rented a Vespa and buzzed around the island however with the kids that was not possible so taxis were a must as no Uber or Lyft run on the island or in Spain for that matter. In any case, calling a cab from the hotel was a breeze and it was there within 3 minutes each time. Once at Salinas Beach all the memories immediately came back. I couldn't wait to show my kids what dad calls his "favorite place on the planet". There were four beach clubs on the beach as far as remember two were there before, Malibu and the place we called home, The Jockey Club. This first thing that jumped out at me was that it had club had been renovated and expanded since the last time we were there which meant a smaller beach or sand area, normally not a big deal but I was hoping there would be enough place for the kids to play. Also, they only had day beds in the center and the beach cots were now on the left and right of restaurant/bar area. At $50 per day for the daybed (umbrella included) it felt like inflation hadn't hit island yet. In fact the beach cots were the same price $30 as they were a decade ago. What was a dramatic change from 10 years ago was the relationship between the clubs and the city. Now all of the daybeds and cots were run by a separate entity from the clubs, one monitored by the state/city. I guess this is a good thing as people couldn't get 'shut out' if they didn't meet the visual esthetic of the club. Now you still needed a reservation to get a daybed and even if you made one, if you didn't arrive by noon they could give it away to someone else. Fortunately it never happened to us but we did see several would be patrons have to take the 'walk of shame' down the beach when they were told the club was sold out and that they could either chose a cot or try one of the other clubs. Because of the arrangement with the city one of the host was explaining that the music couldn't be the same as it was before, a much lower volume that could barely be heard if you weren't in the first row of daybeds and certainly not loud enough to dance in the water! We were told the volume couldn't be turned up until 3pm and even then it wouldn't be to the levels I once knew. So it never became the ballistic beach party that it did a decade ago but instead a very relaxing day and one of the most beautiful spots in the world and one that I could spend with my family and not worry about the kids potentially being exposed to something we would regret later. On the second day we reserved the daybeds closet to the restaurant/club which provided ample space for the kids to build sand castles without anyone walking over them so it was a perfect spot for them to play and us to relax. As opposed to the beaches of Southern California, there weren't any waves to worry about so if the kids wanted to play the water there was no compunction to let them. However I would be remiss if I didn't mention that one day the wind shifted and it turned to an on-shore wind, bringing with it the tide and something I didn't see last time around, jellyfish. They had to put up the purple warning flags and one day we weren't allowed to go into the water. But for not such an excellent spot for playing in the sand the kids might have been bored after the typical 8-hour day but they were fine. So were the other daybeds with patrons whom had children of similar age or even younger. It seems we weren't the only ones who decided that perhaps it was time to get back to a place where both children and adults could enjoy a perfect day at the beach with equal satisfaction. Or maybe we have all just grown up a little bit, but suffice to say it appears the Island has grown up as well.